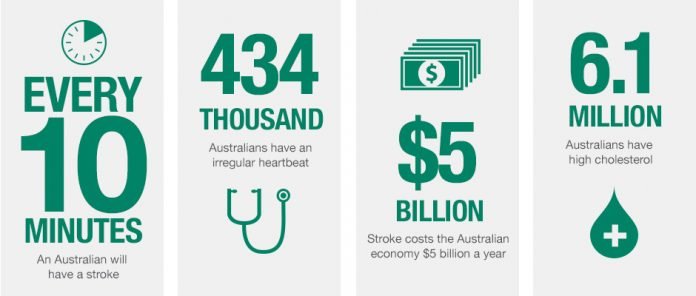 A new study, utilising telehealth to help survivors of stroke in rural and regional Australia return to work, was among six innovative projects funded in the 2021 Stroke Foundation Research Grants round, announced today. View here…

A total of $375,000 was awarded to six researchers across Australia to generate new knowledge with the potential to drive improvements in stroke prevention, treatment and care.
Stroke Foundation Research Advisory Committee Chair Professor Amanda Thrift said Stroke Foundation was on a mission to address research gaps, paving the way for change in real world practice to help survivors of stroke thrive in their recovery.

"The coronavirus (COVID-19) pandemic has highlighted the importance of high quality, independent and robust research and rapid translation of its results into practice to combat disease,'' said Prof Thrift.
"Our research community has responded, and I am excited to announce the recipients of the 2021 Stroke Foundation Research Grants have an increased focus on improved use of telehealth services in stroke prevention, treatment and care.

"I congratulate all of the worthy grant recipients and look forward to seeing the outcomes of their important studies,'' she said.

Prof Thift said the pandemic saw the use of telehealth in stroke rapidly expanded. It was now vital that research was delivered to maximise the benefits of healthcare delivery via this medium.

"Stroke Foundation's Research Grant round will kickstart this work, providing our researchers with funds to start projects and establish strong foundations for future, larger studies,'' she said.


Stroke Foundation Chief Executive Officer Sharon McGowan said she was thrilled to expand the Stroke Foundation grants program this year to include the Nancy and Vic Allen Stroke Prevention Memorial Fund
grant. The round also included the Tim Glendinning Memorial Fund for Young Adult Stroke grant for the second time.

"I would like to wholeheartedly thank trustee Ava-May Morgan, the Glendinning family and all of our generous supporters for providing these researchers with the opportunity to build evidence in a variety of areas that have the potential to make a significant difference to lives," Ms McGowan said.

To view the full list of 2021 recipients click here