Questions are again being asked about home care packages after estimated wait times were published on My Aged Care last weekend on a page that has since been removed.
The below screenshot of the page added to the administrator's section of the portal last weekend shows estimated wait times of 12 months + for level 1 and level 4 home care packages.
Level 2 and 3 packages were shown to have 6-9 month wait times.
The page has since been removed.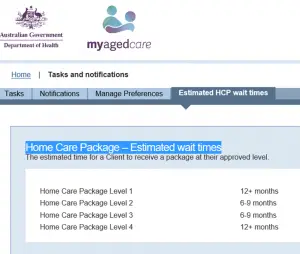 It is understood the Department emailed industry associations about the data earlier this week, saying the figures are not correct and were published by mistake.
The Department said it is working to make the (accurate) data available from next financial year.
Despite repeated questions from the associations, providers and media, no one at the Department seems to know or is prepared to disclose how many people are in the national queue waiting to be allocated a home care package, or how long people are waiting for each level of home care package.
It is also unclear if anyone actually knows how many packages are currently utilised at each level.
If the figures published last weekend are a true reflection of what is happening, pressure will be on the Department to explain how such a backlog has occurred and why it has had no real oversight of home package utilisation until now despite footing the bill.
Although more than 12,000 home care packages have been made available in recent months, providers say referrals are not coming through My Aged Care and because there is no transparency, no one can tell if there are more serious problems with the portal than previously thought.
It is also understood that consumers are receiving letters from My Aged Care stating they have been assessed as eligible for a home care package and containing their unique referral code, only to find they have not actually been allocated a package.
"We are having to explain to people who come to us for services that they clearly need and have been waiting goodness knows how long for, that actually they don't have a package yet and we can only help them today if they pay for it," one provider who asked not to be named told Inside Ageing.
"People are getting angry at us but we are just the messenger. It's disgraceful. The Department needs to send clearer information to people so they understand how it all works."
While ACSA, LASA and COTA have asked the Department to run a communications campaign about changes to home care, no additional funding was allocated for it in the Budget this week, meaning the onus remains on providers.