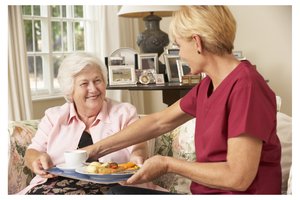 A recent research project conducted by HammondCare shows a cottage model of respite provides meaningful rest and recuperation for carers, with nine out of ten preferring this type of respite for their loved ones.
The research looked at dementia carers' perceptions of the types of respite care they had used over a two-year period, with a focus on cottage respite. Carers indicated that the more homely, familiar and intimate cottage-style of respite care was preferred compared to respite in an institutional-style residential aged care facility. Carers also said flexibility of stay was a significant benefit of cottage style respite.
HammondCare Head of Research, Professor Chris Poulos, said respite was imperative for carers' health and well-being, and allows them to rest and recuperate and continue in their role for longer than otherwise might be expected.
"The research shows that carers are able to utilise quality respite time to do things that people not in the caring role take for granted like reconnecting with friends and family, and re-engaging with their social lives and hobbies," Prof Poulos said.
"There were high levels of support among carers of people living with dementia for a cottage-style of respite, with the vast majority claiming it helped them continue caring for a loved one at home and avoid burnout."
Carers also appreciated the small size of the dwelling, the perceived quality of staff training, the high staff to client ratio, the personalised care, the attention to detail in ensuring clients felt at home and the maintenance of a welcome, familiar and home like atmosphere.
Carers who had used a respite cottage on two or more occasions reported that the availability of cottage respite delayed entry into permanent residential aged care by an average of about a year.
"Carers overwhelmingly support cottage respite as opposed to a bed in a residential aged care facility, and this type of respite delivers a net saving to government because it helps delay permanent entry to residential care," Prof Poulos said.
Recent research conducted by Carers Australia shows that residential respite services are not able to meet demand, with three quarters of respondents reporting a high or very high demand for emergency respite, while nearly nine in ten reported a high or very high demand for planned respite.
"It is fundamental that we provide respite for older people that provides carers with peace of mind. It is also crucial we provide choice in the type of accommodation and length of stay that best meets peoples' needs," Prof Poulos said.
HammondCare is trialling an industry-first modular respite care cottage in Miranda, in Sydney's south-east. The cottage is purpose-built, accessible for people living with dementia, and can be operational within four weeks of delivery. It is easily added to or reduced in size, and is portable.
If successful, the model could be replicated in more areas of high demand for respite care, including regional and rural locations in Australia.