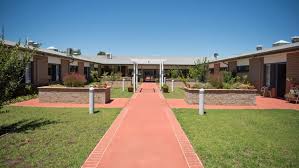 Staff shortages and an over supply of residential aged care beds in the region is forcing the closure of a residential aged care facility just four hours from Sydney.
The closure of St Lawrence Residential Aged Care at Harden-Murrumburrah, operated by Southern Cross Care NSW and ACT, will force 35 residents to find new accommodation in the coming months.
Despite 20 per cent of the town's 2,030 population aged 70 and over, Southern Cross Care said demand for beds has been below industry average for the last three years.
The necessary and significant capital investment in the Murrumburrah-Harden Health Service has delivered a local modern aged care service with 24-hour clinical care with up to 33 beds.
Beyond Harden, the nearest residential care facility is in Young, a 30 minute drive from Harden, Temora a 60 minute drive, or Canberra or Goulburn both 90 minutes away.
Southern Cross Care has justified its decision to close St Lawrence on the grounds the region has an 'over supply and under demand'. In addition to its facility in Harden, SCC operate two other Residential Aged Care Facilities within the Hilltops Council area in Young and Cootamundra (185 aged care beds).
Including other providers, there are 330 aged care beds in total in the Hilltops region.
In a statement, Chief Executive Officer, Helen Emmerson, noted there is also an industry-wide shortage of skilled health professionals and aged care staff in regional areas, including towns like Harden.
"We understand this is a difficult time for our residents and staff, and we recognise the impact this will have on the community," Ms Emmerson said.
"As a not for profit provider of aged care services, SCC remains committed to our mission of providing quality care services to regional NSW, including the Hilltops area. Consequently, we will maximise our focus on our Young and Cootamundra homes."
"Supporting our residents, their families and staff is a key focus at this time. We will work closely with residents and their families to identify alternative accommodation and care services during this transition – either within Southern Cross Care NSW & ACT facilities or with other providers."
In an interview with the ABC, Hilltops councillor Rita O'Connor said the decision was "devastating" and had come "out of the blue".
"I'd just like Southern Cross Care to stop and think about their decision. I'd like them to consider all the people who work there, all the cleaners, all the ancillary staff, the people who come from towns to deliver goods. Because it affects a lot more people than the 35 residents they're saying they're committed to relocating."
The Member for Cootamundra, Nationals MP Steph Cooke, said there remains a shortage of aged care beds in rural and regional NSW.
"More often than not, our aged care facilities are at full capacity, all of the time, and there are some of them that have a waiting list.
"This is a modern facility, and I'm very hopeful … that another provider will step forward, be willing to take on this facility."