This article is part of our showcase of the 2019 Future of Ageing Awards. Eldercare won the Service Transformation Award.  
The Eldercare Advanced Care Services (ACS) Program is designed to improve residents' experience during times of acute illness. Under the new program, Eldercare can provide treatment options in residential aged care facilities, instead of transferring unwell residents to hospital.
Project Overview
The Eldercare Advanced Care Services Program offers consumers more choice when it comes to treatments such as blood or iron transfusions, Chronic Disease Management Programs. IV therapy/antibiotics, male catheterisation, x-ray services and wound gluing. Under the new system, Eldercare residents can opt to have these treatments done on-site, instead of having to transfer to hospital.
ACS is an innovative expansion of service options that stemmed from the Dandelion Project. The Dandelion Project partnered with Australia Aged Care Medical Services (AACMS) to develop consumer care systems and consolidate collaborative relationships with GPs, extended care paramedics (ECPs) and emergency departments.
The Project was launched in April 2017 and completed in June 2019. Adelaide Primary Health Network (APHN) provided funding under the Australian Government Extended Primary Care for Residential Aged Care Facilities (EPC4RACF) initiative.
The Project was trialled at two Eldercare RACFs, engaging with 325 consumers. The project transformed how Eldercare prevents, manages and responds to consumers in RACFs when they develop an acute illness.
At project completion on 1 July 2019, Eldercare established its Advance Care Services program across four RACFs to 453 consumers.
How it came together
At times of acute illness, Eldercare identified that consumers in RACFs with high care needs have limited service options. An acute illness or deteriorating health often results in ambulance transfer to an emergency department. Frail older consumers can quickly succumb to complications in hospital, reducing their short and long term quality of life and wellbeing.
Eldercare staff and GPs were reporting that systems of consumer service could be enhanced through the introduction of more rigorous systems of illness prevention rather than just responding to acute illness.
The Advance Care Services option gives the resident the comfort and safety of familiar surroundings and staff who understand their individual clinical and care needs. APHN provided $527,000 of funding for phase 1, July 2017 to June 2018, and a further $220,000 for phase 2, July 2018 to June 2019. This funding enabled Eldercare to employ a Nurse Practitioner (NP) and other staff to support service development, purchase the initial equipment and resources, and coordinate stakeholder engagement and support.
AACMS are influential partners in the success of the project and ongoing ACS services through provision of GP expertise in acute medical care, and development of collaborative services and protocols.
The project was monitored to obtain clear evidence of the impact of the service model on the consumer experience. The project interviewed residents and surveyed staff to collect qualitative data regarding the service and training. This information has assisted
Eldercare to refine the service and provides evidence of the benefits, sustainability and scalability of the program.
To upskill its staff, Eldercare developed fully equipped training labs, e-learning modules, a suite of training videos and tailored immersion programs to provide multiple training opportunities. The new training program is supported by the presence of an NP to provide on-the-job coaching.
The NP role was created to provide ACS, coordinate training programs and provide coaching to support all staff to implement ACS safely and effectively. The NP provides direct clinical intervention where nursing staff are not trained in specific techniques. The NP also liaises with ECPs and EDs to build collaborative relationships and improve pathways of communication and care services.
The support of the GPs, the ECPs and the EDs is integral to the success of providing ACS services safely. Eldercare will continue to liaise with these stakeholders to maintain and build on the collaborative relationships and ensure the continuity of ACS. Personal Care Assistants (PCAs) spend the most time with residents and are the first to notice any changes, especially with a resident that finds it difficult to communicate their needs due to sensory and cognitive decline. During the project, 184 PCAs were trained on how to manage the notification process when they see that a resident is becoming ill.
Outcomes
The responses to staff and resident surveys highlight the fact that the ACS is a popular program that has improved conditions for residents, and provided welcome training opportunities for staff.
The main reasons consumers gave for preferring treatment in the RACF was being able to stay in their own room and knowing the staff who were administering the treatments. Staff surveys found that Registered Nurse's confidence rose across all skill-sets after training, and the presence of the NP further contributed to staff confidence to provide the ACS.
This was confirmed by 90 per cent of respondents believing the program offered better options for residents than a transfer to the emergency department. Support for the opportunities the program provides was also high with 90 per cent of respondents agreeing the ACS program provided opportunities for personal development and that the training program was effective.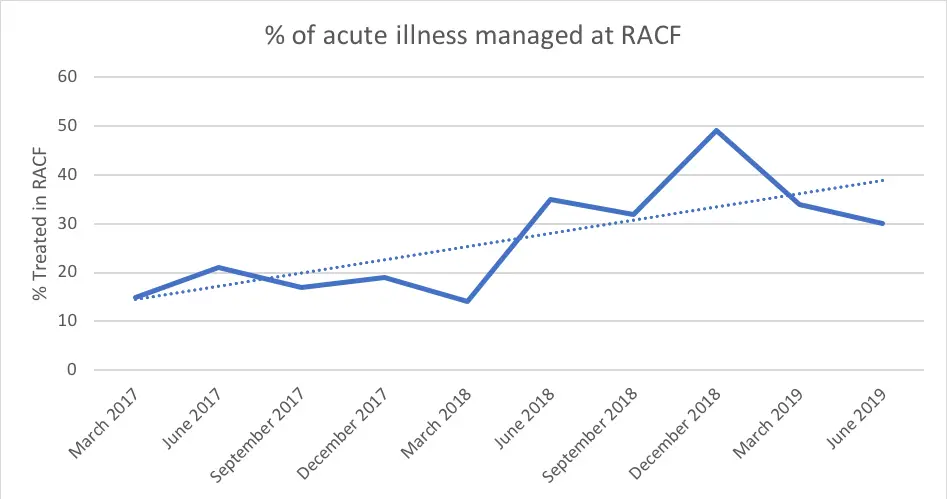 The following real life case studies demonstrate how the ACS transformed the consumer experience.
Mr A
Mr A has a history of dementia, anxiety and depression and recurring urinary retention and catheter blockages. The ACS is able to provide male catheter management including replacement of catheters to prevent presentations at the ED for the procedure.
In the resident survey Mr A responded that he preferred staying at the RACF for the procedure because he" feels comfortable and he doesn't have to leave his room". He "has everything he needs in his room and has familiar staff – his "favourites" – to complete the procedure".
Mrs B
Mrs B is legally blind, has osteoarthritis and a history of recurrent urinary tract infections. The ACS program is able to provide IV therapy and IV antibiotics treatment, preventing presentation and possible admission to hospital.
In the resident survey Mrs B responded that she felt the staff "knew what they were doing" and "are good to her". The RACF is her home and she prefers treatment at the RACF because the staff "know the residents and their ways". She said, "it's much better to stay at home" and would not ask for anything about the service to be changed next time.
Mrs M
Mrs M is a 92-year-old woman who has a diagnosis of anaemia and cognitive impairment second to dementia. She becomes confused when taken out of familiar environments. Her GP organised two iron infusions to be administered at the RACF. Family members were asked to support Mrs M during  the procedure. The infusions were given in the facility without incident due to the family's engagement, the familiar environment and familiar staff whom she trusts.

Mr C
Mr C has had multiple presentations to hospital for treatment of resistant respiratory infections and worsening lung disease. In liaison with the hospital Respiratory Unit a course of IV antibiotics was provided. In the resident survey Mr C stated he was happy with the treatment and staff were competent. It was important to him that he knew the nurses and "got along with them".