Construction will commence in a matter of weeks on a new aged care facility in the Illawarra region that will see 52 bed licenses utilised for the first time since they were secured in 2006.
Blue Haven, which is owned and operated by the Kiama Council, is building an aged care centre of excellence on the site of the old Kiama hospital as part of a major redevelopment project.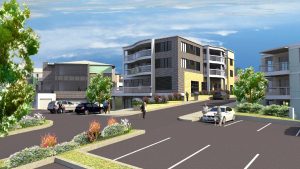 On an information page about the project on its website, Blue Haven says: "We'll be able use the 52 additional bed licences Council secured from the Australian Government Department of Health's Aged Care Approvals Round in 2006."
"We haven't been able to use these licenses and offer more aged care accommodation because our existing Blue Haven Aged Care Facility simply doesn't have the space for further development."
Once complete, the centre will feature a 134-bed residential aged care facility, 59 independent living units and 18 assisted living units located next to the new health centre.
It will also feature a community hall, cafe and meeting rooms.
Blue Haven's community aged and disability services will relocate to the new premises to allow greater coordination of all Council's support services which now operate as Blue Haven Care.
The development application was approved by local planning authorities in January 2016.
Kiama MP Gareth Ward said the state government has provided a total of $8 million in funding for the Kiama Hospital Redevelopment project under the Restart NSW Illawarra Infrastructure Fund.
The overall redevelopment project is expected to cost just over $60 million.
The residential aged care facility and eight independent living units are expected to be completed by the end of 2018 with the remaining 51 independent living units finished by mid-2019.