A new time requirement for allied health professionals managing complex pain in residential aged care is not based on clinical evidence and could adversely impact rural providers, a number of health professionals have told Inside Ageing.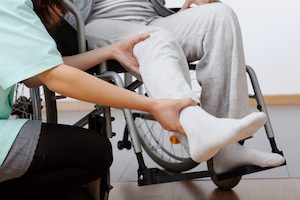 One of the measures announced last week in the new ACFI changes will see a reduction in the time duration for 12.4b activities from the previously proposed 120 minutes to 80 minutes over at least four days from 1 January.
In addition, services must be delivered to residents one-on-one, ruling out the option for residents to participate in group therapy sessions.
The reduced time requirement has been sold as a 'win' for both aged care providers and consumers, but experts say there is no clinical evidence to support the frequency of treatment, making it about financial restraint rather than improved health outcomes.
"Very simple rules cannot apply if we want the best outcome for the consumer," CEO of Osteopathy Australia, Antony Nicholas said.
"When dealing with complex patients, anything less than 10 minutes could probably be delivered in another way but I've never seen evidence presented that shows a longer appointment is efficacious," he said.
While the introduction of a minimum time per session is in line with funding rules imposed on GPs for standard appointment times and chronic disease management, the frequency requirement remains questionable.
"Dictating how many times a week someone needs to be seen is more questionable than setting a minimum appointment of 20 minutes," Mr Nicholas said.
"Where is the clinical justification in requiring someone to be seen four times a week?"
"A patient with complex needs may not need to be seen four times per week, but this does not change the complexity of their condition," he said.
There are also concerns this measure could create additional barriers and cost for aged care providers that need to bring in allied health professionals, especially in areas where there are skills shortages.
"If someone has been working with an aged care provider and offering appointments as required but they are not paid as much as they are to see patients in a private practice, it might become more difficult for aged care providers to bring in allied health professionals, especially in places where there are shortages," Mr Nicholas said.
Professor Cathie Sherrington, from the University of Sydney, said the question of clinical evidence behind the funding of this initiative highlights a broader systemic issue.
"There is a major gap in using evidence to guide policy in aged care," she said.
"There are many initiatives that are funded that have little to no evidence, but many others that are supported by evidence that are not funded."
Another industry leader who requested not to be named said there is no question the measure is about financial restraint.
"There is no evidence to support these changes. The physios wanted a minimum of 10 minutes so who knows where 20 minutes came from. It is simply a case of the Government trying to find ways to make it harder for providers to access the highest levels of funding. And it's consumers who will lose out in the long run," he said.
When asked how the timing had been determined, a spokesperson for Assistant Minister Ken Wyatt said it was reduced to 80 minutes following concerns from the sector and clinicians that 120 minutes would be too long for some residents.
"Introducing a timing requirement of 80 minutes per week better delineates between the different levels of treatment and helps ensure that the highest level of funding for this treatment is targeted to those with the highest need," she said.
"The two lower levels [of levels of complexity of pain management] already include requirements around timing duration of the treatment. The highest level previously specified the number of times treatment was needed but not duration."
Tell us what you think by commenting below or sending us an email.