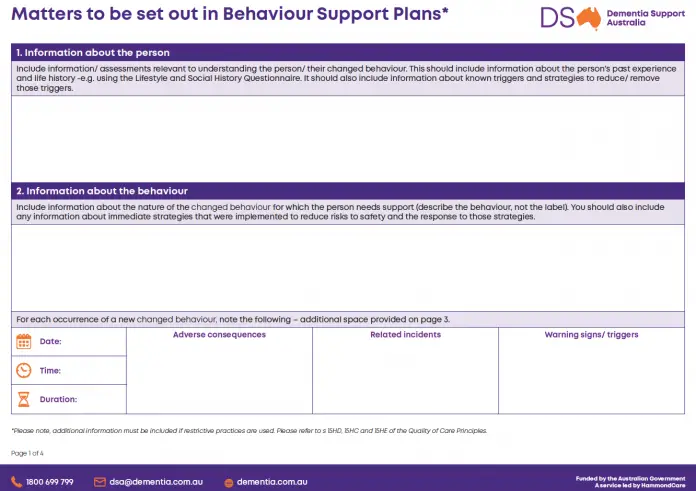 Dementia Support Australia (DSA) has released a resources toolkit to assist aged care providers to meet new behaviour support plan requirements intended to minimise or eliminate the need for chemical or other restraint.
From 1 September 2021, Aged Care Act amendments and Quality Care Principles make it mandatory for providers to have behaviour support plans in place whenever there are behavioural changes, restraint is imposed, or likely to be imposed. This change is for all residents of aged care including those living with dementia with changed behaviours.
Dementia Support Australia (DSA), a program funded by the Australian Government and led by HammondCare, provides support where behaviours impact care. DSA has released a series of guidelines, templates and resources to assist providers with the changes. DOWNLOAD THE RESOURCES HERE
DSA Head of Clinical Services A/Prof Stephen Macfarlane said a range of factors can impact the behaviours of a person living with dementia.
Restraint, including chemical, environmental, mechanical, and physical restraint, and seclusion are not the most effective way of dealing with behaviours and psychological symptoms of dementia.
"The way we behave is influenced by many things – our physical, social, emotional and mental health, our habits our relationships and changes in the environment," A/Prof Macfarlane said.
"In general, most of us can manage how we respond to the things going on around us, and, if there things we don't like we can change them.
"However, for many people, different things – illness, cognitive impairment such as dementia, mental health problems and having to live with others – can affect their ability to control what is going on around them, as well as how they respond."
A/Prof Macfarlane said behaviour may be the only thing people in this powerless situation have left to respond or communicate with – and those behaviours can sometimes feel challenging.
"But such behaviours are often the result of distress, a signal that they have an unmet need or that they are in an unwelcome situation," he said. 
The requirements are a response to Aged Care Royal Commission recommendations in its final report. The Royal Commission heard distressing evidence that people living with dementia in residential aged care homes are frequently inappropriately prescribed psychotropic medication or subject to physical restraint.
The amendments to start September 1 provide powers for the Aged Care Quality and Safety Commission to respond to the inappropriate use of restrictive practices.