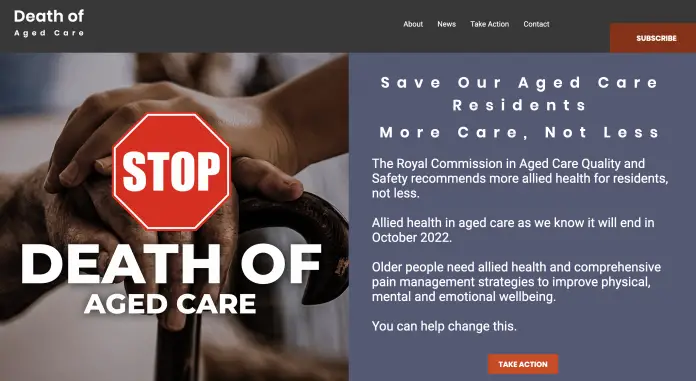 A campaign by physiotherapists and occupational therapists has been launched in a bid to highlight funding cuts to allied health in aged care facilities.
With the campaign catchcry 'Death of Aged Care', a website by the same name went live this afternoon asking supporters to email their local member asking for allied health be put into the Australian National Aged Care Classification (AN-ACC) funding model, which comes into effect from October 2022.
Organisers have built into the website additional functionality that allows supporters to enter their street address, which then matches them to the local member for their area.
The campaign is billed as non-political and non-industry and open to anyone who wants to support older people in nursing homes to have better care.
"Everyone who has parents or loved ones in aged care, or even worries about what will happen when they get older, should be concerned about this change," said Alwyn Blayse, Senior Physiotherapist and campaign organiser.
"The government is removing specific funding for allied health in aged care. This means that instead of hands-on treatment for pain, our elders will be given more pain medication – which leads to more side effects. Older people will fall more and end up in hospital more. This is the crisis point. If the government doesn't amend the AN-ACC to include allied health, we will see a reduced standard of living in aged care and, we fear, more deaths."
The AN-ACC funding instrument that comes into effect from 1 October 2022, will remove funding for Allied Health, meaning providers will need to fund this themselves at a time when many are under considerable financial pressure.
The organisers cite research that not having allied health in nursing homes will also have a considerable burden on the overall health system. Evidence suggests that physiotherapy can reduce falls by 55%, the number one cause of preventable death in older people.
The campaign website can be found here – www.deathofagedcare.com.au and has a countdown timer from now until the 1st October 2022.