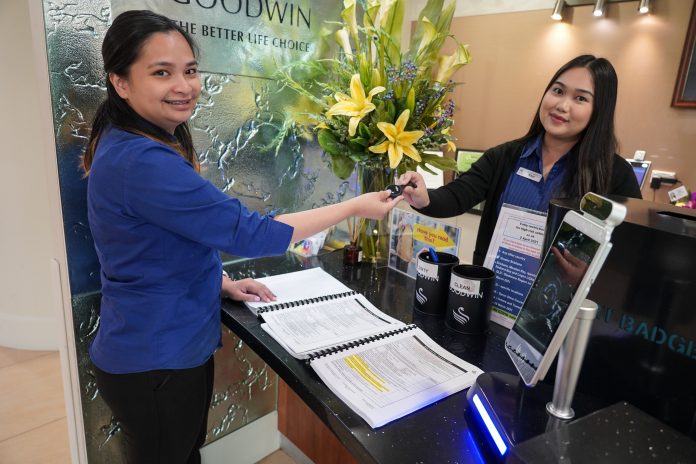 Goodwin and Smart Badge won the Technology – Health & Wellbeing category in the 2021 Future of Ageing Awards for this trial to help manage infection prevention in residential aged care.
An Australian-first trial at Goodwin Aged Care Services of new real-time Smart Badge technology paves the way for immediate advancement in infection prevention and outbreak management in residential aged care.
The wearable device developed in response to the COVID-19 pandemic, provides automated instant contact tracing, social distancing alerts, and real-time area capacity management. Smart Badge is an Australian-owned and operated company.
Conducted from December 2020 at the 108-bed Canberra-based Goodwin House, the trial was a partnership with exclusive Smart Badge distributor Aspen Medical, who facilitated the trial with Goodwin involving all staff and visitors.
'We were keen to understand how the Smart Badge technology could best be deployed in an aged care setting and so established a working relationship with Goodwin to be the first aged care provider to trial the system.' said Smart Badge Project Director at Aspen Medical, Stephen Wood.
Ideal for closed communities like residential care, the device-to-device system detects when it is near another Smart Badge or Smart Badge node, which one, how close, and for how long. Unlike contact tracing apps, Smart Badge does not use GPS or require participants to engage their own mobile device.
Goodwin Executive Manager Clinical and Health Services, Tamra McLeod said the Smart Badge not only speeds up contact tracing but helps reduce the risk of staff shortages in the event of outbreak. 'The contact tracing data shows us which staff have actually been exposed, therefore potentially saving us from quarantining an entire staff cohort at the confirmation of a COVID-19 case.' The same could apply to quarantine of residents.
The collaboration saw a range of adjustments to the set up and use of the system in the unique aged care environment, which only real-time experience on site could highlight. For example, it was decided that room or area nodes were more viable than worn devices in Goodwin's dementia support wings.
The trial had surprise benefits for infection management processes as well. The technology provided a window into the movement of people and the associated integrity of IPC systems, which had previously not been available in such granular detail.
'We learned quickly which staff members were potential super-spreaders, as they were in the habit of moving across Goodwin's sites and floors', said Tamra. (Goodwin has three residential facilities in the ACT plus home care headquarters and four retirement villages.)
Tamra says the staff and visitors were positive about using the Smart Badge. 'We've had very little resistance as it's not a tracker', said Tamra.
'Contractors entering our facilities are the biggest risk to bringing infection in, so to be able to know who they have been in contact with is important.' Tamra said.
The system was initially deployed with COVID-19 in mind, very soon it was realised that the technology has further and ongoing applications in the aged care sector for managing other infectious diseases such as influenza or gastro outbreaks, which can be equally as devastating to vulnerable residents.