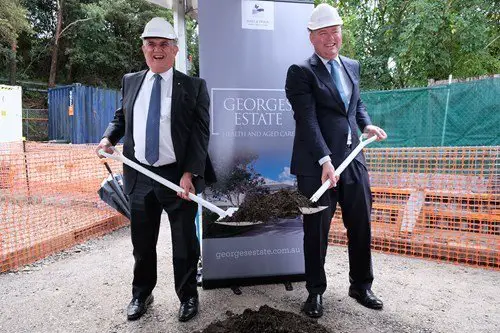 Hall & Prior has announced it has taken over the management and operations of the City of Bayswater's Mertome Village in Perth, as building commences on its world class site in Sydney.
Hall & Prior's plans for the site, which comprises a 70-bed residential care facility and 102 independent living units, were considered to deliver the best outcomes for both existing residents of the village and the City of Bayswater.
The Council received expressions of interest to lease the land and purchase the business and related assets from two other parties: Lester Group and Amana Living, and Churchlands Holdings.
Hall & Prior has pledged to refurbish the 70-bed residential aged care facility and 102 independent living units.
"Hall & Prior is delighted that the City of Bayswater has selected us to redevelop the facility," CEO Graeme Prior said.
"We are grateful for the support of the City's Councillors and Executive Leadership Team and we're very pleased that we share the same vision for Mertome going forward.
"This will deliver quality care outcomes for older people in Perth's eastern region, and we are excited to be responsible for Mertome Village.
"At Hall & Prior we specialise in the delivery of high-level permanent care and respite including dementia support. It is this valuable experience we bring with us to the management of Mertome."
Before Easter, the aged care operator announced it had officially broken ground on its latest project, the $65 million world-class George's Estate.
Based in Penshurst, NSW the 111-bed site will offer high-level, 24/7 residential care services catering to all levels of need.
It will also offer specialist services including a secure dementia care wing offering an initial 18 beds combined with a multitude of luxurious leisure and health related services and amenities.
"As with all of our residences, George's Estate Health & Aged Care is a purpose built space for healing, providing quality care to soothe the soul, with access to state-of-the-art amenities including a day therapy centre, wellness centre, gymnasium, cinema, a heated swimming pool and a primary and allied health clinic," Mr Prior said.
"George's Estate will focus on the best possible care for residents and the continual betterment of staff."
The fully financed, Hall & Prior owned-and-operated project also leverages its award winning care program with mobile health professionals providing in-home and community aged care services to people within the local region.
"We'd like to thank the land owner, Georges River Council for its invaluable and ongoing support of this development," Mr Prior added.
The project is due for completion in 2020. Hall & Prior currently operates 25 homes in Western Australia and New South Wales.