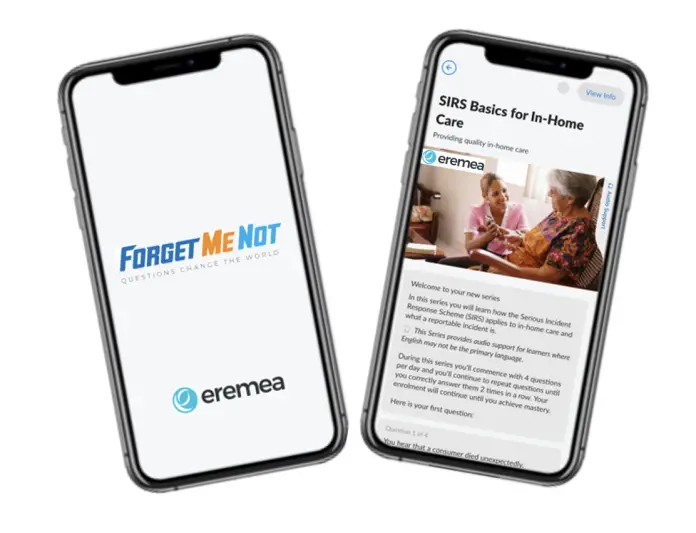 Eremea Home Care Services is a home care provider based in Sydney's inner west. The organisation provides care and support to people in their homes, particularly those with disabilities. Eremea's point of difference is 'providing caregivers that are diverse, multicultural and fluent in the same language as the client making each interaction personable and the client experience unique'.
Eremea's workforce is made up of frontline staff, including care workers and support workers, as well as office-based staff.
Prior to the implementation of the Forget Me Not®microlearning app Eremea's workforce did not have access to any on-demand learning opportunities. Training was typically delivered face-to-face, with a focus on addressing issues that had already occurred. These training sessions were largely presented in a lecture-style format, with no opportunity for learners to engage in follow-up practice activities or scenarios to embed learning.
While attendance at induction training was close to 100%, completion rates for face-to-face courses were largely dependent on staff showing up, rather than demonstrating knowledge mastery of the material.
Maintaining training records on the number of courses completed by the workforce each month was manual.
One of the biggest challenges for Eremea was scheduling training for its frontline workers. Backfilling staff for training presented rostering challenges, particularly as some clients had specific language and gender preferences for their care workers. This made it difficult to find the right staff to backfill, particularly for clients with complex needs.
Improving the convenience and accessibility of learning
Staff also needed to be located within a certain radius to minimise travel time and ensure timely service delivery. English language proficiency was another challenge for many of Eremea's frontline staff, with over 90% of the workforce having English as a second language. This made traditional learning more difficult, particularly in a face-to-face format where language barriers could be more pronounced. In addition, many of Eremea's frontline staff had not had a lot of formal education and may have felt intimidated or anxious about attending face-to-face training sessions. This created a psychological barrier to learning, which could prevent staff from fully engaging with the material. The presentation of microlearning content in plain English text with audio options was an important consideration in the selection of learning technology. 
Ms Renee Poon, Lead – Clinical and Workforce Capability at Eremea
These challenges prompted Eremea to seek out a new and innovative training solution that would address the organisation's unique needs. Eremea's Renee Poon recognised the need for a solution that would be accessible, and timely for frontline workers, who did not have laptops or computers to learn. She also wanted a solution that would be delivered in short, scenario-driven "learning bites" that provided multiple opportunities for practice and was easy for staff to engage with on their mobile devices.
The Forget Me Not®microlearning app was identified as the solution to address challenges. Forget Me Not® is a mobile app that delivers bite-sized, scenario-based learning. It improves staff knowledge and confidence in key areas, such as dementia care, infection control, and aged care standards using a spaced repetition algorithm.  
Implementation at Eremea started with a 3-month test and learn phase with a group of 35 staff. Feedback from the pilot group was positive, with staff reporting that they:
appreciated the convenience and accessibility of the app.
valued the engaging and interactive nature of microlearning and the chance to practice.
valued the recognition from attaining mastery in topics like the Serious Incident Response Scheme.
Following the test and learn phase, Forget Me Not®was rolled out to the entire workforce at Eremea, with support provided to help staff adopt a continuous learning habit. This included training sessions on how to use the app, as well as ongoing support and troubleshooting as needed by Obvious Choice.
The implementation of Forget Me Not® has had several positive outcomes for Eremea.
Staff are now able to access learning and development opportunities at their own pace, on their own mobile devices, without the need for backfilling or travel.
The clinical education team at Eremea have also been trained and accredited to author their own microlearning.
The platform's rich learning analytics supports clinical education, identifies coaching opportunities and lean in to provide more targeted support, especially for new staff.  
Audit reporting has been streamlined. The auditors were impressed with the clarity of the data provided by Forget Me Not®.
Since the app launched in September 2022, Eremea staff have attempted 25,027 questions on clinical and person-centred care topics. Care and Support workers have mastered 4,132 questions to date.
Obvious Choice won the People & Culture category in the 2021 Future of Ageing Awards