Opal Aged Care has opened a brand new state-of-the-art care home in south west Sydney.
Designed by AJC Architects, the 149-bed facility in Blacktown incorporates a specialist memory support unit complete with a beautifully landscaped sensory garden for residents with dementia.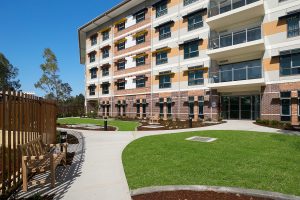 The $41 million building's entrance includes a vast undercover space so people are not exposed to the elements while getting in and out of a car, while no ramps or steps makes it easier for people to enter the building.
Near the reception is a 'town centre' space which includes a café with indoor and outdoor seating, hairdressing/spa room and a function room.
On the ground level a 16-bed Memory Support Unit enables specialist care for dementia patients who also have access to a large specially-designed MSU garden.
The unit features a wander alert system, while integrated nurse call and security functions including cameras have been installed throughout the facility.
The upper 3 levels are residential wings, each with their own lounge, dining, servery and activities rooms.
A grand piano sits in an upper lounge area and is used for music therapy sessions.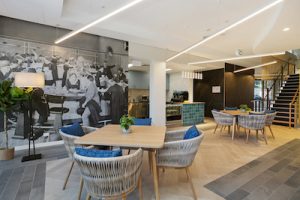 Multiple balcony areas on each level enable residents to enjoy fresh air and sunshine without having to travel far from their rooms.
To overcome the noise of an adjoining railway line, double glazed windows have been installed to ensure residents are still able to enjoy the northerly aspect.
The interior was designed by Jen White Interior Design with the colour scheme a modern take on a contemporary/homelike feel.
At its official opening earlier this month Opal CEO, Rachel Argaman said: "Opal Blacktown is part of Opals' $300 million investment in the region. The home provided 150 jobs during construction and will also deliver a further 180 jobs to the local area on an ongoing basis."
"While Opal Blacktown is an impressive, state-of-the-art building, this is not what makes it special. What is truly important are the people who live and work here and give the building a beating heart that makes it a warm and caring place to call home."