Western Victorian aged care providers from as far afield as Ballan, Stawell and Casterton have met with Minister for Aged Care, Ken Wyatt AM, to discuss future challenges and opportunities in this dynamic and evolving sector.
Workforce recruitment, emerging models of dementia care, technology and artificial intelligence were just some of the topics covered at last week's roundtable, which also allowed local providers to showcase their unique solutions to some of these emerging issues.
Lyndoch Living CEO, Ms Doreen Power, said the Minister was very keen to hear about Lyndoch's innovative approach to recruitment, community engagement and care.
"We recognise that the industry is facing some challenges but instead of sitting back and waiting for someone else to fix things we're trialling new approaches and setting out to change the mindset about aged care through local community engagement and collaboration," she said.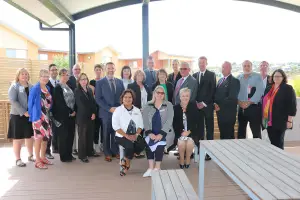 "Through partnerships with local training providers, disability groups and even local schools, we're highlighting the huge opportunities that this sector presents and actively recruiting the best people to take our organisation into the future, with our key focus on providing the best possible care to our local aged community."
Minister Wyatt was briefed on the current works and planned developments at Lyndoch that will enable the respected local organisation to offer world-class, innovative aged care to the Warrnambool region into the future.
"Aged care in this region is going to look very different in 10 years' time, with an increased emphasis on servicing people in their own homes with advancing levels of care."
"Our Masterplan is focused on enabling this in the greater Warrnambool region, as well as improving dramatically the experience of those who require higher, institutional care," Ms Power said.
Ms Power thanked the Member for Wannon, Dan Tehan MP, for providing local providers with the opportunity to directly address the Minister.
"It was a fantastic opportunity to engage with not only the Minister, but other providers in our region as well. By working together and bouncing ideas off each other we can meet future challenges head on and move forwards with confidence," Ms Power said.