More than two out of every five aged care homes operated at a loss from June to September, despite increased funding associated with Covid-19.
The latest report from industry accountants StewartBrown found 44 per cent of residential home care facilities were losing money.
This was down from the previous quarter, when 52 per cent of homes made an operating loss.
"The financial impact of COVID (funding received less direct COVID related expenditure) has had a significant effect on the September 2020 results, through some target support programs as well as those that have been made available to the wider business community," the report said.
"Based on the data that was available, the COVID revenue exceeded the COVID expenditure by an average of $7.66 per bed day at the aged care home level in the September quarter.
"For FY20, revenue exceeded expenditure by an average of $2.62 per bed day. This means that for the September 2020 quarter, the average operating result after COVID revenue and expenditure was a surplus of $2.60 per bed day compared to a deficit of $1.69 per bed day for the same period in 2019."
Acknowledging the tragic impact of the pandemic on the health, personal and financial hardship on the sector, StewartBrown said the aged care industry had shown outstanding compassion, expertise, resilience and professionalism to care for Australia's elderly.
"When we witness what is occurring elsewhere in the world, Australian aged care providers have performed very well in limiting the number of outbreaks within their homes," the report said.
"As one of the sectors that does care for vulnerable members of our society it has been under additional scrutiny during this period as well as under additional financial strain, particularly in Victoria."
Echoing previous reports that found many or most operators were running at operating losses, the survey from July to September 2020 revealed the significant impact of Covid-19 on the worst-affected states.
Victorian homes lost almost $15 per bed per day during the period, compared to a national average of $5.06. If the Victorian result were removed, the average loss would be $3.48.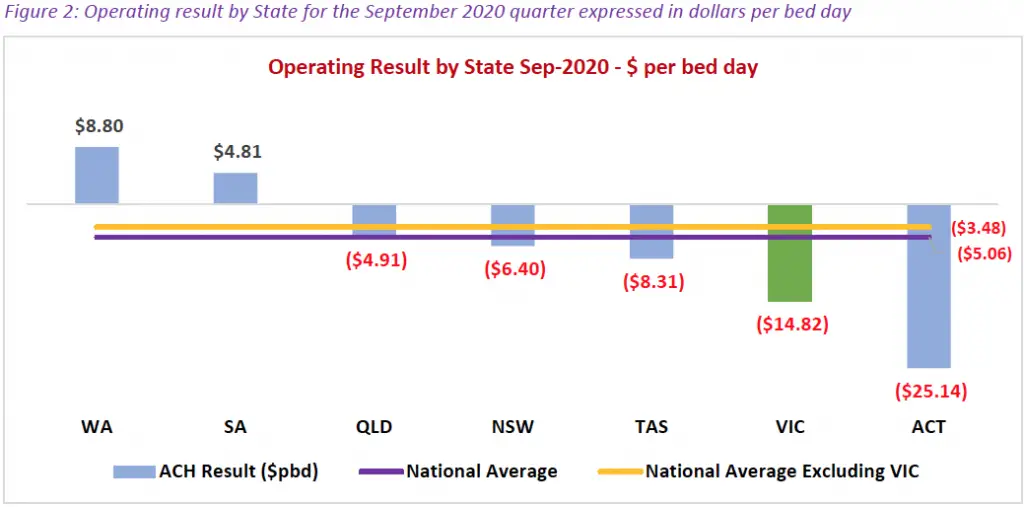 There were also significant impacts on occupancy in Victoria and New South Wales, where the outbreaks also resulted in significant deaths at the start of Australia's pandemic.
While StewartBrown reports the national average occupancy at 92.8 per cent, New South Wales and Victoria's average rate was more than a percentage point lower. (see below interactive chart to view results)
The Productivity Commission's recent Report on Government Services found occupancy across the sector last year had dropped to its lowest level in a decade, at 88.3 per cent.
The report highlighted the ongoing financial sustainability of the sector would continue to decline in all regions across Australia.
"Unless additional specific targeted funding and structural reform is implemented it may lead to closure of residential aged care homes and will risk further necessary investment into the sector," the report said.
"Non-recurrent COVID support measures has improved overall operating results for the September quarter, however many of these measures ceased at the end of that period."
When the Covid-19 funding was removed from the analysis, the survey found:
52 per cent of aged care homes recorded an operating loss for the three months to Sep-20
28 per cent of aged care homes recorded an operating cash loss
Average Aged Care Funding Instrument per bed day for survey participants increased by $4.95 to $185.94,
The report also looked into funding and costs for home care packages. It found revenue per client per day average decreased by 4.5 per cent to $3.28.
StewartBrown's survey is one of the largest financial reports of the sector each quarter. It uses self-reported data from 1140 aged care facilities and more than 52,500 home care packages, including from cities and regional areas.