A study into the best medication reminder apps has found less than six per cent of those on the market have the right functionalities to be effective.
A team of reviewers, led by the George Institute for Global Health, reviewed 272 apps available in the Australian ITunes store and Google Play that claim to improved medication adherence.
They then classified each product as "basic" or "advanced" and ranked them using the Mobile App Rating Scale (MARS) tool.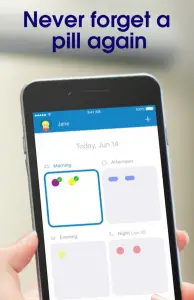 The researchers identified 17 features as being desirable in medication reminder apps, including flexible scheduling, medication tracking history, snooze option and visual aids.
Customisable alert sounds, data exporting/sharing, and languages other than English, refill reminders, data security, adhere statistics and charts and adherence rewards were also identified as desirable features.
However, only 18 of the 272 apps had nine or more of these features. In more than half of the apps flexible scheduling and medication tracking history were the only two features present.
The study found that Apps available from Google Play had more customer reviews, higher star ratings, and lower cost compared with those available through iTunes.
Only 109 apps were available for free and 124 were recently updated in 2015 or 2016.
BEST ADVANCED APPS
APP
SCORE
COST
1. Medisafe
20
Basic version – Free

Top premium – $62.99

2. Dosecast
15
Basic version – Free

In-app products $33 per item

3. MyMeds
15
Basic version – Free

Premium – $14.99

4. CareZone
14
Free
5. My Pillbox
14
Free
6. MedicineList
14
Free

BEST BASIC APPS 
APP
SCORE
COST
1. My heart, my life
9
Free
2. MediWare
8*
Free
3. MyMedManager
8
Free
4. Pill Reminder (Aplicativos Legais)
8**
Basic version – free

Complete version – $3.99
*Could not be assessed due to crashes in iOS and Android devices
**Only iOS assessed because of technical problems in Android device