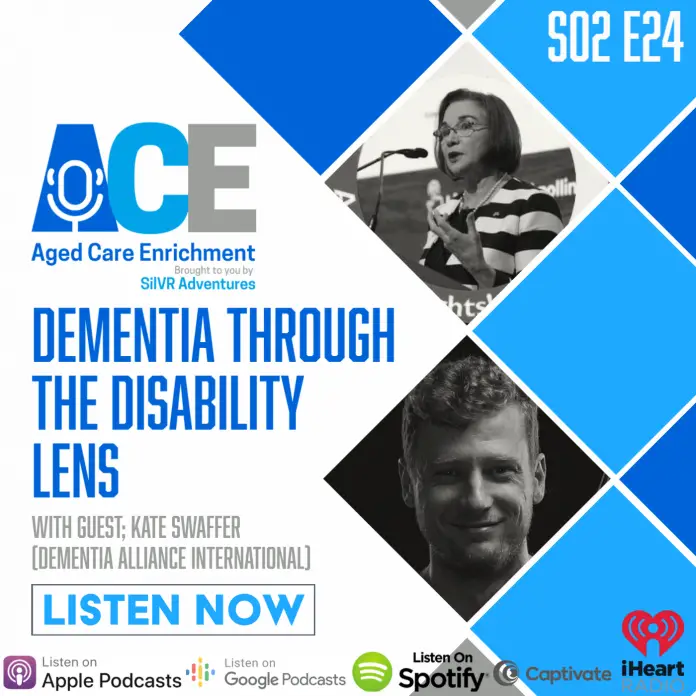 On Tuesday, we're delighted to welcome Kate Swaffer onto the Aged Care Enrichment Podcast. Kate is one of Australia's most prominent advocates for the rights of people living with dementia. She herself was diagnosed with early-onset dementia 13 years ago and is particularly passionate about ensuring that the post-diagnostic process for people living with dementia improves dramatically.

Kate was the first person living with dementia to be invited to give a keynote speech to the World Health Organisation. She was also South Australia's Australian of the Year for 2017 and co-founded the organisation Dementia Alliance International, a peer support network for people living with dementia.

This episode is all about viewing dementia as a condition that causes disabilities, and by interpreting the symptoms of dementia as specific disabilities, care, and support for people living with dementia will improve drastically. There's a lot more really interesting information in this episode, and we were thrilled to get the chance to talk to Kate.

One additional note, if you're enjoying this podcast, then what's the best way you can support us? Easy, please share an episode with a friend or colleague, and help us keep building our highly engaged audience. If you're thinking of someone right now who might like what we do, then we'd love it if you could send them your favourite episode to have a listen.
The Aged Care Enrichment Podcast is proudly brought to you by SilVR Adventures. Subscribe and check out our back catalogue of available episodes on Apple Podcasts, Spotify, iHeartRadio or wherever you get your podcasts from or online here:https://silvradventures.com.au/podcast/