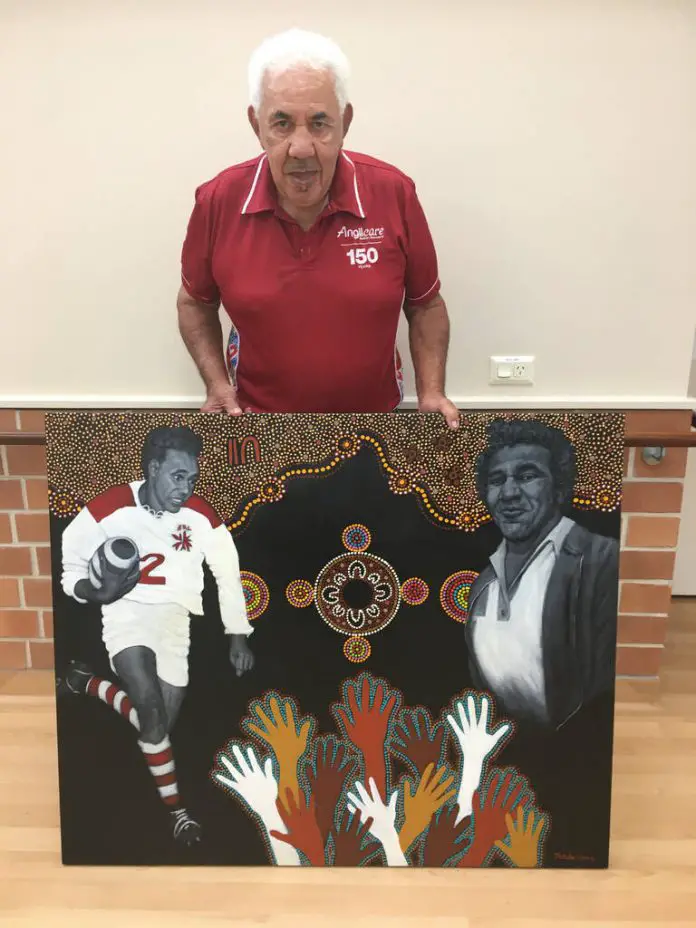 Wynnum-Manly local, Uncle Lionel Morgan – the first Indigenous man to represent Australia in rugby league, has been honoured with a portrait depicting his career painted by renowned artist Jandamarra Cadd.
Mr Cadd was commissioned to produce the work by Anglicare Southern Queensland, to celebrate the ground-breaking achievements of Mr Morgan – who represented Australia at the 1960 World Cup in Great Britain several years before Indigenous Australians were given the right to vote or counted in the national census.
Mr Morgan now lives at Anglicare's EM Tooth Residential Aged Care home at Manly – not far from Wynnum-Manly Seagulls' home ground Kougari Oval – where the Morgan family are club legends.
The portrait now hangs proudly next to Mr Morgan's bed at the EM Tooth home.
His son Earl believes Lionel Morgan should be recognised in the National Rugby League Hall of Fame – an accolade many believe is long overdue.
"He has achieved something no one can ever beat. There will be Indigenous players forever and a day, but there will only ever be one person who is the first ever. That's a worthy recognition," Earl Morgan said.
"Dad had a goal and he achieved it. He showed what can be done if you've got the right attitude, the right mindset and don't let people tell you that you can't do it."
Mr Morgan was selected for the second and third Tests of the 1960 French tour of Australia, where he scored two tries on his international debut. His selection for the Tests made him the first Indigenous Australian to represent at an international level in any major national sporting team.
Later that year he travelled to Great Britain with the Kangaroos squad, which featured legends such as Reg Gasnier, Noel Kelly and Johnny Raper.
Mr Cadd said the portrait represented Mr Morgan's life, both on and off the field.
"The symbol in the middle with the U shapes all around is the Elders and the young ones sitting together, with the little coloured circles on the outside of those representative each of family, community, connection to country, and a connection to the ancestors," he said. 
"The hands down the bottom are representative of all the people who celebrate his life while playing football and how the game in many ways was bringing all people's together of all races, to come and celebrate in a common connection through the love of the game."
EM Tooth Facility Manager Glenda Phillips said there was no mistaking Mr Morgan's lifelong love for rugby.
"There's memorabilia in Lionel's room, he likes watching and reading magazines associated with rugby league, and he proudly wears his collection of football shirts and jerseys. He's very proud of his achievements in his life. Once you get him chatting, he's happy to share his stories."
Lionel and his wife Laura celebrated their 61st year of marriage in November 2020 and together they have four children, 9 grandchildren and six great-grandchildren.    
Earlier this year in partnership with the National Rugby League, Mr Morgan, his son Earl and one of Lionel's good friends former star NRL player Preston Campbell, were reunited at EM Tooth sharing a cup of coffee and reminiscing on his playing days – view video of this meeting below.