In this interview Inside Ageing (IA) spoke with Kate Burleigh, Country Manager Alexa ANZ, about the increasing role of assistive technology to underpin ageing Australians' desire to remain in their own homes for longer. This includes support for people living with dementia who rely on assistive technology to help them remain independent.
IA: Thanks for agreeing to this interview. Alexa is a product that has long been on our radar to learn more about with respect to what it can offer healthcare and aged care. We've noticed that Alexa has been doing some interesting things in support of World Sight Day (October 13).
Tell us a little bit about the program to help the blind and low-vision community.
Kate: We're really excited by both the progress and impact we've been able to have in the lives of older blind and low-vision Australians as we've kicked off an Alexa Smart Speaker program with Vision Australia this year. Those taking part in the program are learning about the power and simplicity of voice technology, and how Alexa can help them easily accomplish daily tasks to stay organised, more connected, and live at home with confidence. When devices and services are accessible, they don't just improve the lives of the people who use this technology, but they positively impact their caregivers, family, friends, and loved ones too.
Our local Alexa team has worked closely with Vision Australia to develop an Alexa Skill and an onboarding program to help their clients understand and make the most of Alexa. The program, called Introduction to Alexa and funded via the Commonwealth Home Support grants, provides an Amazon Echo smart speaker device for free to participants, alongside training that showed how they could get things done around the house with Alexa – Either just by asking Alexa or by setting up smart routines to do it for them without even having to ask. It's covered things like turning on the radio, checking the weather, keeping track of their schedule, or even how to cook with voice-guided recipes and timers, and setting reminders for important tasks such as taking medication.
Having the friendly voice of Alexa right there when needed is a powerful tool, and is inherently personal. Helping Vision Australia to build this program to show Alexa's value for their community has been a joy, and we're excited to see it come to life.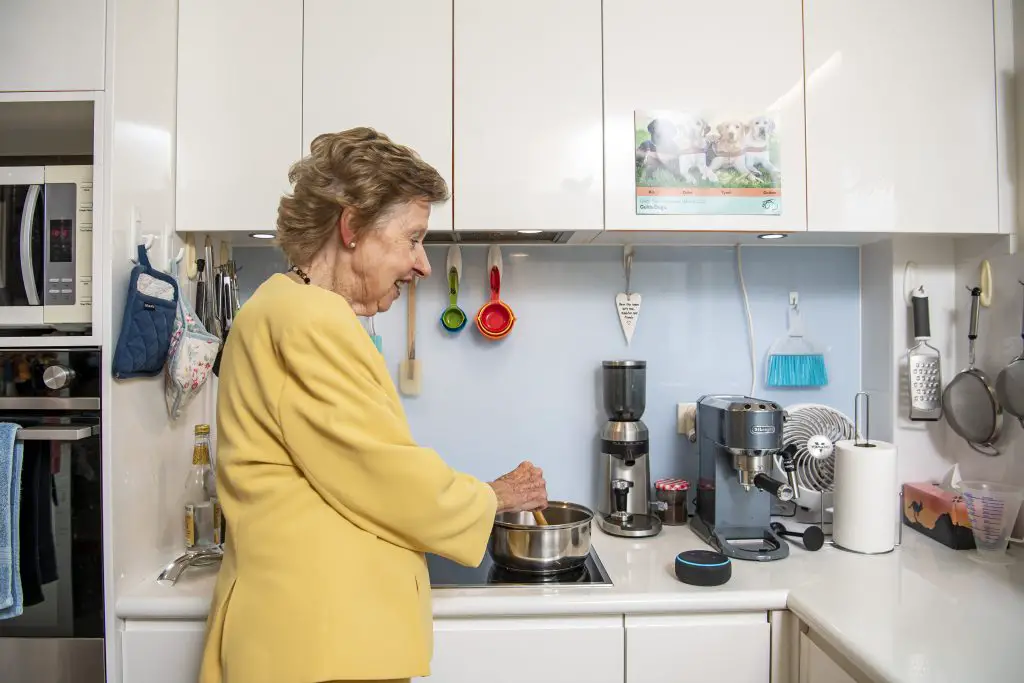 IA: COVID remains a real issue in aged care with still a very high number of cases, so we were very interested to hear about the functionality of Alexa and Echo that allows messages to be sent into patients' rooms – whether they be in a hospital or aged care facility. Can you tell us more about how this might work for an aged care facility? (reference)
Kate: The example you mention is powered by Alexa Smart Properties, which is a business product available in other markets. This product is not currently available in Australia.
Our efforts in Australia today in this sort of space are more about showing the value and appeal of Alexa in the home for individuals and families – A son or daughter could set up an Echo device in their elderly parents' home with a personal profile, enabling them to easily access music, entertainment and information, just by asking Alexa. If they have a screen device, they can easily ask Alexa to start a video call to connect with family, enhancing their feelings of connectedness and their day-to-day well-being. This is the sort of value we're seeing come to life in our work with Vision Australia and similar organisations across the world.
IA: Home Care is a growing sector as most Australians would prefer to remain in their own home. Referred to as 'ageing in place' it would seem the role of technology to underpin this desire will need to be significant. How much of a role do you see Alexa and Amazon playing in this space and what type of solutions are available now and what might be coming?
Kate: Vision Australia's Introduction to Alexa program is focussed on supporting this need precisely – helping older Australians live happier, healthier, more connected lives at home for longer through the power of voice. It's designed to help them accomplish daily tasks confidently, rather than needing to move into care facilities. All of us with elderly family members know this is ideal, and what many want in their senior years. We're talking to the benefits here through the lens of Vision Australia's program, but they are fantastic outcomes for anyone looking for support to age in place.
The great thing about Alexa is, it's evolving and improving all the time and we're constantly adding new features to make life easier. For example, we recently launched routines triggered by your location, so you can set your lights to turn off automatically when you leave the house, or back on as you arrive home. This saves money and makes it much safer to navigate entry in the dark. Our Alexa team in Australia and across the world work to ensure Alexa responds to the natural, conversational requests customers make to in turn, give the right answers.
We continue to learn from the experiences of our customers as Alexa evolves and grows – Valerie (81) for example, who took part in Vision Australia's Introduction to Alexa program, is one of those customers we learn from. She's quickly embraced the benefits voice technology brings to her everyday life: Features such as kitchen timers and daily reminders help her confidently juggle meal prep and a busy Pilates and yoga calendar. Valerie also uses Alexa's knowledge resources as a "digital teacher's aide" to help tutor her granddaughter in maths, science and English. Through our innovation, customers young and old are inventing new ways for Alexa to be valuable and useful every day. This is what drives us!
IA: There is a lot of change in aged care at present, including a soon-to-be-released Star Rating for each aged care provider based on performance in areas such as Consumer Experience, Staff Minutes (Care), and Service Compliance. Obtaining feedback from people is going to be a key part of this, and I wonder if Alexa has been used in the context of surveys. I'm thinking a resident might be able to use it to let staff know if they enjoyed their meal or what they prefer and generally if they're happy, which can form part of compliance reporting.
Kate: Scenarios like this really illustrate the value of voice for older people who are less likely to understand or have access to a smartphone or web-led experience. Voice in comparison feels natural and human, so this is definitely an area we're experimenting with in partnership with local aged care providers today. In markets like the US, our "Alexa Smart Properties" solutions allow us to run these sorts of site-specific programs at scale, but in Australia, we've been working with some innovative aged-care providers to test and learn using Alexa skills. Experimentation is already underway to deliver resident services through personal devices and accounts setup in resident rooms, delivering services like mental health and general awareness programs, as well as practical things like requesting clean-up, finding out what's on the menu, reserving building services, hearing notifications and even bus schedules. We're continuing to learn from these projects both in Australia and abroad, and are excited to see what the future holds.
IA: Artificial Intelligence (AI) in terms of human connection seems to be a hot topic right now. As someone who worked in this space, what can you tell us about what the future might look like in the context of aged care and generally getting older?
Kate: The Alexa Smart Speaker program with Vision Australia shows the power of AI not just for older Australians, but for all of us. Just by asking, we can get the answers to our questions, stay organised, accomplish tasks and be entertained. As AI develops further, we see its value being intuitive and responsive to your needs. We call this "ambient intelligence" – technology that is there when you need it, and disappears into the background when you don't. Alexa already includes features like this – sound detection features that alert you to leaking water, dogs barking or beeping appliances so you can identify alerts before they become issues. Or even "Good morning" routines that share the weather, news, your daily medication and exercise reminders: These are habits our customers are creating with Alexa today that will continue to evolve as we develop the technology further. Beyond that, we also hear from customers that Alexa quickly feels like another member of their family. They love to hear Alexa's jokes, songs and daily pleasantries every day.
We will go where our customers' needs and imaginations take us. We continue to listen and learn to guide our innovation and invention every day.
IA: Thank you