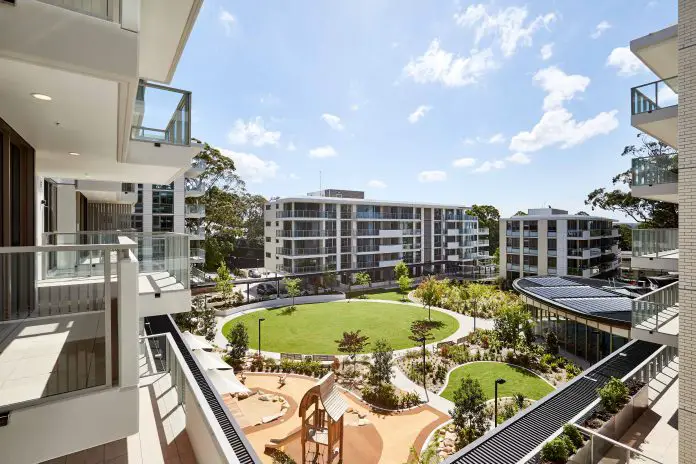 With a record number of applicants in a record number categories, judges have now shortlisted finalists for the 2023 National Retirement Living Awards.
Retirement Living Council Executive Director Daniel Gannon said Australia's retirement living industry is the world's gold standard, as evidenced by the highest score in the prestigious Global Real Estate Sustainability Benchmark last month.
Mr Gannon said feedback from the judging panel this week was encouraging, with an overwhelming number of applicants and a consistently high standard.
"It is through the increasingly competitive professional standards in our annual industry awards programme that the 'best of the best' are continually pushing and pulling the rest of us closer to the world's best practice," Mr Gannon said.
"It's always important to remember why we're here, so our focus is on supporting residents in age-friendly communities and delivering outstanding built-form outcomes." 
Mr Gannon said the national awards programme was a key part of the National Retirement Living Summit, an ideal opportunity for professional development and networking.
"The summit is a great opportunity to look at ourselves and take stock of what we do well, what we don't, and where we can improve," he said.
"The national industry awards dinner is a really uplifting event where we recognise and celebrate the 'best of the best' and establish a best-practice benchmark."
For the first time in the programme's history, there will be a People's Choice Award for Best Retirement Village or Community in 2023.
"I would like to wish all of the finalists the best of luck. This year has a highly competitive pool with updated categories and prizes for the people categories," Mr Gannon said.
"A big 'thank you' as well to our cast of volunteer industry judges. Our judges have a more challenging job each year, which is a great sign of an industry that is focused on delivering for residents and customers."
Regional (State) winners for the Programmed Award for Village Manager of the Year and Award for Salesperson of the Year will be announced at Property Council of Australia State Retirement Living events being held in February and March 2023.
National Winners will be announced on 22 June 2023 on the Gold Coast as part of the 2023 National Retirement Living Summit. 
Congratulations to everyone listed below:
PROGRAMMED AWARD FOR VILLAGE MANAGER OF THE YEAR
ENTRY
COMPANY/VILLAGE NAME
COMPANY NAME
NSW/ACT
MICHAEL BURKE
COASTAL WATERS RETIREMENT VILLAGE
LENDLEASE RETIREMENT LIVING
LYN MASON
GRIFFITH RETIREMENT ESTATE
GANNON LIFESTYLE COMMUNITIES
JO-ANNE QUINN
MANORS OF MOSMAN
AVEO GROUP
QLD
KIRSTEN BELHAM
THE GARDENS ON LINDFIELD
LENDLEASE RETIREMENT LIVING
BELINDA HENSLER
CARLYLE GARDENS RETIREMENT VILLAGE
RETIREAUSTRALIA
JUSTINE REGAN
AVEO ROBERTSON PARK
AVEO GROUP
VIC/TAS
SHERMAN BROWN
BURWOOD TERRACE
LENDLEASE RETIREMENT LIVING
GARY KARRO
THE GRACE ALBERT PARK LAKE
AUSTRALIAN UNITY LIMITED
ROSLYN PRENTICE
JOHN FLYNN RETIREMENT VILLAGE
RYMAN HEALTHCARE
SA/NT
LEE ANN ALEJO
WISTERIA GROVE RETIREMENT VILLAGE
RETIREAUSTRALIA
TERRI WINN
BAY VILLAGE
LEVANDE
WA
KARRI ASHFORD
WOODSTOCK WEST BUNBURY
LENDLEASE RETIREMENT LIVING
NIKKI MOLLART
RIVER PARKS AND PINES VILLAGES
MASONIC CARE WA
AWARD FOR SALESPERSON OF THE YEAR
ENTRY
VILLAGE NAME
COMPANY NAME
NSW/ACT
BRADEN GRAHAM
KINGFISHER GROVE RETIREMENT LIVING
LENDLEASE RETIREMENT LIVING
ELLEN JENNINGS
AVEO ISLAND POINT
AVEO GROUP
JOANNA WATKINS
WILLANDRA RETIREMENT COMMUNITY
AUSTRALIAN UNITY
QLD
AMANDA ADAMS
AVEO CLAYFIELD
AVEO GROUP
ELIZABETH MCKONE
CARLYLE GARDENS TOWNSVILLE
BLUE CARE
SUSAN MILWARD
AVEO NEWSTEAD & AVEO CARINDALE
AVEO GROUP
VIC/TAS
KAY MURDOCH
WEARY DUNLOP RETIREMENT VILLAGE
RYMAN HEALTHCARE
BRENT PETERS
VMCH (14 SITES)
VMCH
PETA SMITH
ABERVALE VILLAGE AND WINDSOR PARK
LENDLEASE RETIREMENT LIVING
SA/NT
EMILY BEY
HILLSVIEW, THE GRANGE, & WALNUT GROVE RETIREMENT VILLAGES
LEVANDE
WA
GLENYS WATTERS
PARKLAND VILLAS MANDURAH AND WOODSTOCK WEST
LENDLEASE RETIREMENT LIVING
AWARD FOR FUTURE RETIREMENT LIVING LEADER
| | |
| --- | --- |
| ENTRY | COMPANY NAME |
| ANNABEL BONE | LENDLEASE RETIREMENT LIVING |
| ANTHONY FELICE | TSA MANAGEMENT |
| SARA LABORDE | UNITINGCARE QUEENSLAND |
| DANIEL PHUNG | AVEO GROUP |
AWARD FOR MARKETING EXCELLENCE
| | |
| --- | --- |
| ENTRY | COMPANY NAME |
| CARE TO TALK CAMPAIGN | AVEO GROUP |
| TAKE THE FIRST STEP CAMPAIGN | AVEO GROUP |
| FEEL AT HOME | BLUE CARE |
| BRAND PARTNERS MARKETING FOR KOKODA RESIDENCES | BRAND PARTNERS |
| AVEO FREEDOM PORTFOLIO | CBRE |
| UNITING BOWDEN BRAE | UNITING |
AWARD FOR SUSTAINABILITY IN RETIREMENT LIVING
| | |
| --- | --- |
| ENTRY | COMPANY NAME |
| AVEO BELLA VISTA | AVEO GROUP |
| KOOROOTANG COURT – COMMUNITY CENTRE & LODGE REFURBISHMENT | LENDLEASE RETIREMENT LIVING |
| STOCKLAND HALCYON GREENS | STOCKLAND |
AWARD FOR BEST LAND LEASE COMMUNITY DEVELOPMENT
| | |
| --- | --- |
| ENTRY | COMPANY NAME |
| INGENIA LIFESTYLE HERVEY BAY | INGENIA COMMUNITIES |
| STOCKLAND – HALCYON GREENS | STOCKLAND |
AWARD FOR BEST LUXURY RETIREMENT LIVING DEVELOPMENT
| | |
| --- | --- |
| ENTRY | COMPANY NAME |
| BOLTON CLARKE EUROPA ON ALMA | BOLTON CLARKE |
| CIRRUS APARTMENTS AND CLUBHOUSE | CAMERON CHISHOLM NICOL |
| THE QUEENSLEA RETIREMENT LIVING APARTMENTS | ORYX COMMUNITIES |
| STOCKLAND – HALCYON GREENS | STOCKLAND |
| PAVILIONS BLACKBURN LAKE | VIA ARCHITECTS |
AWARD FOR BEST REFURBISHMENT OR REDEVELOPMENT
| | |
| --- | --- |
| ENTRY | COMPANY NAME |
| AVEO TARINGA | AVEO GROUP |
| AVEO LINDSAY GARDENS | AVEO GROUP |
| AVEO SPRINGTHORPE | AVEO GROUP |
| EUREKA WYNNUM | EUREKA GROUP HOLDINGS LTD |
| DEE WHY GARDENS – COMMUNAL AREAS UPGRADE | LENDLEASE RETIREMENT LIVING |
| THE WILLOWS CLUBHOUSE REFURBISHMENT | LEVANDE |
| WURLEY COURT HUNTERS HILL COMMON ROOM | VASEY |
AWARD FOR BEST RETIREMENT VILLAGE DEVELOPMENT
| | |
| --- | --- |
| ENTRY | COMPANY NAME |
| AVEO BELLA VISTA | AVEO GROUP |
| AVEO NEWCASTLE | AVEO GROUP |
| BAPTCARE STRATHALAN INTEGRATED COMMUNITY | BILLARD LEECE PARTNERSHIP (BLP) |
| BOLTON CLARKE EUROPA ON ALMA | BOLTON CLARKE |
| GOODWIN VILLAGE FARRER | GOODWIN AGED CARE SERVICES |
| NEWPORT – A LEVANDE LIFESTYLE COMMUNITY | LEVANDE |
| UNITING BOWDEN BRAE | UNITING NSW.ACT |
| PAVILIONS BLACKBURN LAKE | VIA ARCHITECTS |