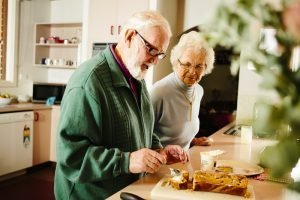 Mercy Health has introduced an entirely new model of care at its not-for- profit homes in Western Australia, at Edgewater and also Claremont, with plans to roll the initiative out across all its new developments into the future.
The small household model has proven highly successful in the Netherlands and other European countries, and is based on the concept of a social model of care whereby seniors live in a household of no more than eight people, rather than the larger group settings of traditional aged care services.
This strengthens individualised care that promotes independence and autonomy, enabling older people to live enriched lives, including those living with dementia.
The model involves individual households which contain a fully functioning kitchen and laundry along with a lounge, dining area and outdoor garden, and where each resident has their own room and ensuite.
It's akin to living in one's own home where spaces that create socialisation and community engagement are promoted.
Anita Ghose, National Director, Residential Aged Care – Mercy Health, says the concept is focused on creating a home-like, normalised daily living experiences, which is facilitated by a dedicated multi-skilled team of care companions who assist residents with all their care needs and activities.
"After many years of research and review into the caring of older people, and especially those living with dementia, this new model of care is built around relationships, personal enablement and choice, meaningful living and reduced loneliness, isolation and boredom," she said.
"Our focus at Mercy Health is on enrichment and better practices to support this, and when we researched the small household model and its proven benefits, we wanted to embrace it fully ourselves. We're excited to have introduced it at Mercy Place Edgewater and also Mercy Place Mont Clare in Claremont, as it forms part of our building designs for all new developments across Australia.
"Each household is autonomous, the care team has total control of their own budget, they do all their own menus, cooking, cleaning and laundry together with the residents. We know that consistency of care, smaller living environments and strong social relationships are critical factors in enhancing wellbeing."
"We are already seeing some very encouraging results for our residents in our small households, including an increase in weight, a reduction in medication and in falls."
The small household living concept has been inspired by De Hogeweyk Dementia Village in the Netherlands. Small community households are at the centre of Mercy Health's model of care, with care partners – who include nursing, allied health, pastoral care and other key staff within the aged care home – called upon when required.
Importantly, community is a big part of the home and the engagement with residents occurs naturally and spontaneously.
Mercy Health is a Catholic community not-for-profit provider of health and aged care throughout Victoria, Southern New South Wales, Western Australia, Queensland and the Australian Capital Territory.