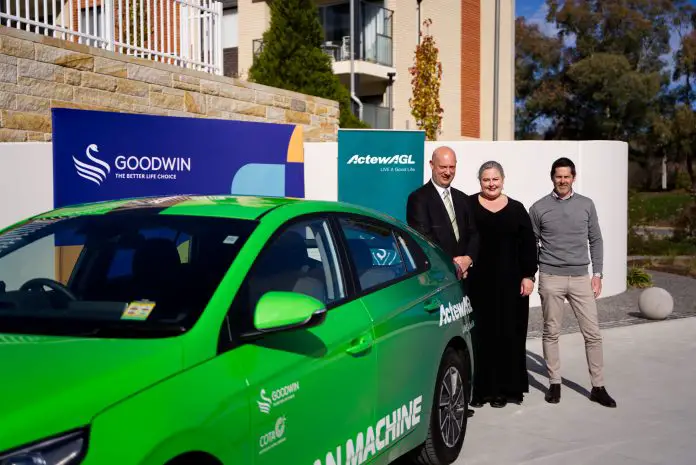 ActewAGL will be providing the Canberra-based Goodwin Home Care team with free use of a Hyundai IONIQ electric vehicle (EV) for twelve months, alongside a bespoke ActewAGL EV charging station.

"We are delighted to work with Goodwin Aged Care on this pilot program to support the community adoption of electric vehicles," said Rachael Turner, General Manager of ActewAGL Retail.
ActewAGL is leading the shift to low-emission vehicles by increasing accessibility and raising awareness of EVs as a cost-efficient, sustainable alternative to petrol vehicles through their services to support the finding, financing, and charging of electric vehicles in the ACT and surrounds.
The use of the Hyundai IONIQ EV and charger installation by the ActewAGL Energy Solutions team complements the extensive sustainability strategy of Goodwin Village at Farrer, which includes plans for a large commercial solar system.
The newly-developed village in Farrer (ACT) boasts 169 independent living apartments, an 81-bed Residential Care Facility George Sautelle House and corporate offices.
Goodwin Chief Operating Officer Stephen Holmes has thanked ActewAGL and said that this is an excellent addition to Goodwin's mix of environmental sustainability initiatives.
"Goodwin places great importance on minimising the impact that we have on our environment. We're grateful to ActewAGL for the opportunity to explore this new technology and I know that our staff and home care clients are going to thoroughly enjoy the ride."