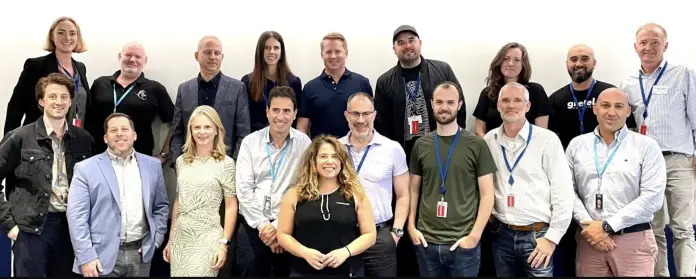 Amazon Web Services (AWS) has announced the 11 participants chosen for the AWS Healthcare Accelerator Australia/New Zealand for Aged Care and Digital Health. The cohort is developing a range of solutions, using the power of the cloud, to improve equitable access to health, social, and aged care services, support aged care and health service providers to deliver higher quality care, and promote new and productive ways of delivering services.
The healthcare and aged care systems are facing challenges related to funding, low uptake of new technologies, workforce requirements, quality of care, and the ability to support patients and the elderly in their homes. Via a four-week program, this technical, business, and mentorship accelerator will help these high-potential startups scale their solutions to address the increasing healthcare challenges of an ageing population.
The proportion of people 65 and over in Australia has increased from 12.4% to 16.3% between 2000 and 2020, with the over-65 group projected to increase more rapidly over the next decade. This creates an increased demand across the healthcare and aged care systems.
The selected startups will receive mentoring from subject matter experts on business models, regulatory pathways, clinical validation, and electronic health record integration, as well as go-to-market and investment guidance. The startups will also receive AWS training, computing credits, and potential proof-of-concept opportunities with AWS customers and AWS Partner Network (APN) members.
Leaders from AWS and program collaborators, including Australia's IRT Group, Aged Care Information Technology Council, and ANDHealth, selected the 11 startups based on several factors, including the innovative nature of the proposed solution, product-market fit for Australia and New Zealand, team experience, and ability to address unmet needs in aged care.
The 11 startups selected for the Accelerator are:
Brenna is a mobile app that streamlines communication between registered nurses (RNs) and family members of residents in aged care facilities. The app helps family members receive clear, concise updates on their loved one's condition; saves RNs time and improves workflows; eases communication with RNs for whom English is a second language; and provides time-stamped records for compliance and future reference.
CancerAid is an oncologist-founded digital health company that delivers a digital coaching program to empower people and organisations impacted by cancer to thrive through empathy, expertise, and technology. It helps insurers, employers, and health providers better support their staff and improve clinical outcomes and quality of life for patients through personalised messaging and data analytics.
Care Monitor is a remote patient monitoring and telehealth software platform used by healthcare providers, health insurers, and community care providers to address fragmented and suboptimal patient healthcare journeys. It coordinates complex clinical care pathways for a range of chronic conditions, managing medication schedules, creating care plans, and more.
Core Schedule is a software system for hospitals and healthcare professionals, helping them save time by moving away from time-consuming manual rostering systems and automatically communicating rosters and changes to staff.
Gretel Analytics is a software platform for operators of residential aged care facilities to improve the safety and care of residents and make sure compliance requirements are met. It utilises on-site sensor technology data streams and artificial intelligence (AI) to predict and prevent incidents like falls and reduce the need for environmental restraints on hospitalisation, resulting in better outcomes and quality of life for residents.
Humanetix is a point-of-care digital management system for aged care providers that can yield up to 20% efficiency improvement, freeing up time to deliver better care. Its globally patented intelligent care delivery platform also helps residential aged care facility operators with compliance and government audit requirements.
Labflow is a cloud-based laboratory information system that enables pathology laboratories to adopt cloud-based solutions that automate manual workflows and simplify access to pathology information. In turn, pathology providers can leverage AI to enable new models of care for addressing the increasing need for pathology tests for an ageing population.
Lenexa Medical provides software and sensor technology that helps clinicians deliver targeted, long-term solutions for personalised pressure injury prevention and patient monitoring. Leveraging AI, the solution helps clinicians prevent and minimise pressure injuries, shorten patients' hospital stays, and reduce costs, while improving staff efficiencies for aged care providers and hospitals.
Lysn is a telehealth counseling solution that enables faster access to mental health professionals and personalised care for patients via data analytics and research technology. Lysn's cloud-based, end-to-end telehealth platform, combined with behavioural health electronic health records, allows for timely, accessible collaboration between patients and mental health professionals.
SilVR Adventures is a virtual reality solution that provides mental well-being experiences to help patients overcome social isolation, stimulate memories, bring joy, and drive social engagement for the elderly and those with dementia, including residents of aged care facilities.
VaxApp is an immunisation management platform aimed at improving access and uptake of vaccinations. It supports providers by improving clinical workflows so they can deliver vaccinations with less time and cost. It also supports public health services, workplace health providers, and pharmacies in the delivery of community, school, workplace, aged care, and disability care vaccinations.
Both SilVR Adventures and Lenexa Medical are past recipients of Inside Ageing's Future of Ageing Awards, with Gretel Analytics' Georgie Armstong joining our Innovators webinar on March 23, alongside other business founders. To register for the event click here…