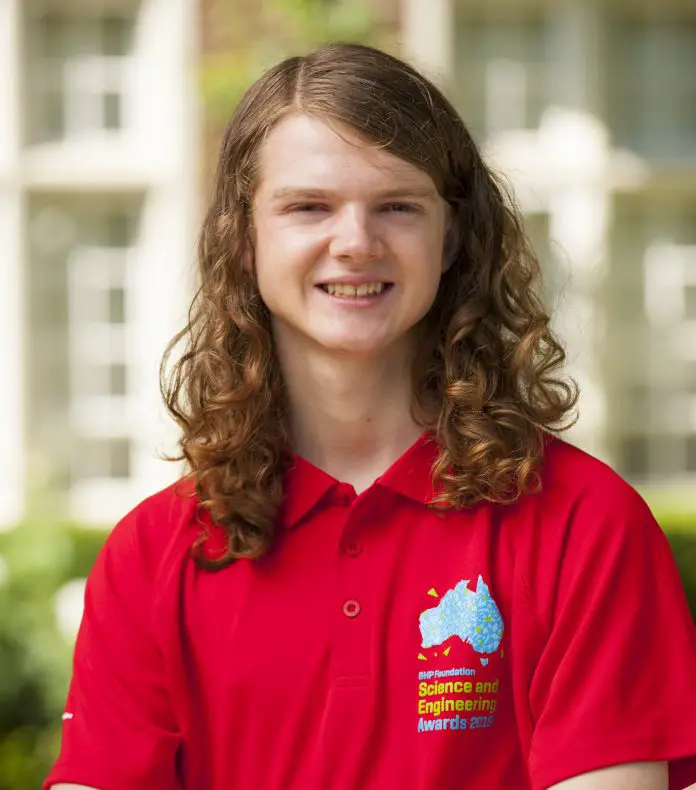 A wearable device that can alert aged care staff if a client has a fall in real time, developed by two teenagers, has taken out a prestigious national science award.
Cousins Isaac Brain and Mitchell Torok, both aged 18, won equal first place in the engineering stream of the BHP Foundation Science and Engineering Awards on Tuesday night.
Motivated by a desire to help Mitchell's great grandmother, the pair created a smartwatch-style device that can detect whether an elderly person has fallen and trigger an alarm.
Mr Torok said he worries about the 89-year-old who lives in an independent apartment next to an aged-care facility in Hobart.
"If she falls over and hurts herself, there's a chance no one would be able to find her quickly," Mitchell said.
"So we decided to build a cheap and easy device that aged-care residents could wear."
Called "aWear", the device can be worn as a watch, brooch or lanyard. It links to a database that can SMS nursing staff about residents' status and location in real-time. As well as an alert button, the device also features an "accelerometer" that measures the speed of a wearer's movement to detect a fall.
A key feature is that an alert is triggered to staff even if the wearer did not press the alert button.
Mr Brain developed the software and web development for the device.
"The accelerometer measures movement — so when an increase in movement is detected it records that data and it is then analysed to determine whether a fall has occurred," he said.
The device will now be showcased on the world stage at a science and engineering fair in Arizona that brings together other students who are first-place science winners.
The Tasmanian pair said they wanted to continue developing their aWear device in the hope that it could reach the mainstream market.
The BHP Foundation Science and Engineering Awards are a partnership between the BHP Foundation, CSIRO, the Australian Science Teachers Association and each state and territory Science Teachers Association.
Six of the finalists will have the opportunity to go to Intel International Science and Engineering Fair (ISEF) in the United States of America where over 1800 high school students from 75 countries, regions and territories are given the opportunity to showcase their independent research.
CSIRO Chief Executive Dr Larry Marshall said the national science agency is committed to ensuring the next generation of leaders have the science, technology, engineering and mathematics (STEM) skills needed to navigate disruption in a rapidly changing world and innovate their way to a better future.
"STEM skills go well beyond the classroom, they teach our students to think creatively about problem-solving, which will be critical in a future shaped by genetics, synthetic materials, AI, and other disruptive technologies," Dr Marshall said.
"This year's student finalists have shown our future is in safe hands as they've paired outstanding STEM skills with a passion for solving the big challenges faced by Australia, the kinds of challenges we tackle every day at CSIRO."
BHP Chief Executive Officer Andrew Mackenzie said the awards help to uncover and develop the next generation of innovators.
This story was first published by The Mercury.