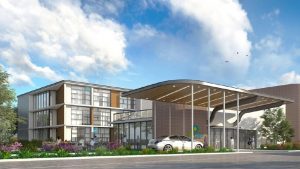 Three aged care facilities proposed by Life Care to be built in Adelaide have been granted "major development" status under new legislation that will enable the provider to by-pass council planning laws.
Aged care developments worth more than $20 million automatically qualify for the special status under the changes introduced by Planning Minister John Rau, in a bid to encourage development to meet demand.
The three proposed redevelopments, in Joslin, Norwood and Glen Osmond, will be reviewed directly by the state Planning Commission's assessment panel. A proposal to extend the existing Joslin site from two storeys to seven is currently before the panel.
"Lifecare will be required to prepare detailed development reports for each application, addressing the environmental, social and economic impacts of each proposal," a Government spokesperson told the Adelaide Advertiser.
"After Lifecare finalises the Development Reports, they will be made available for public comment."
Life Care chief executive Allen Candy said the company would consult with communities during the SCAP process, and stressed it was beyond the Government's "mandated consultation requirements".
"Through this engagement process, we want to provide residents with the opportunity to review our preliminary development concepts and discuss key issues so we can look for solutions and make amendments where possible," he said.
A review of the new laws is expected to occur in June 2018, offering a short window of opportunity for providers looking to move quickly into the Adelaide market.